Rico McGraw flipped from UGA to the Crimson Tide on July 31st
By Brett Beaird
Staff Writer for AlabamaIntel
Rico McGraw Film:  http://www.hudl.com/athlete/593128/rico-mcgraw
McGraw: #1 prospect in TN
Alabama's latest verbal commitment 6-0, 195 pound Rico McGraw, four-star cornerback from Ensworth high school in Nashville, may have come on many school's radar because of recent success at several 7-on-7 camps, but Alabama established a relationship with the talented secondary player years ago.
 Alabama was the first school to offer McGraw a scholarship even before he started his first varsity game as a sophomore. Former Alabama defensive coach Jeremy Pruitt started his relationship with McGraw when he was a member of the Crimson Tide's staff.  Pruitt continued to recruit McGraw when he went to Florida State as defensive coordinator and then when he accepted the defensive coordinator position at Georgia following the 2013 season.
McGraw has been a two-year starter at cornerback and he'll play corner and safety this year for Ensworth. Ensworth, a perennial sports power in Tennessee, will be striving for its fifth straight state football championship in Tennessee Division II, Class AA.
Because of Pruitt's efforts McGraw made a commitment to the Bulldogs January 16th, but flipped to Alabama in late July.
McGraw talked about a variety of topics pertaining to his decommittment to Georgia and commitment to Alabama with Bams Radio hosts Drew DeArmond and Cary Clark this week.
When asked why he flipped to Alabama last month, McGraw cited it was a great problem to have but thought the Alabama coaches would put him in the best position to be successful.
"It's a great problem to have when a player is offered scholarships to two of the finest schools in the nation," McGraw said. "It was an honor to be offered by both schools. But I chose Alabama because the coaching staff will put me in positions that will help me in the future. The last few weeks have been crazy trying to keep recruiting in prospective. The Alabama coaching staff was the first to offer me a scholarship the summer after my freshman season in high school. I loved their summer camp and getting to know the coaches such as Coach (Jeremy) Pruitt, Coach (Kirby) Smart and of course Coach (Nick) Saban."
Because of McGraw's established relationship with Pruitt, McGraw committed to Georgia first. He has a lot of respect for the Georgia program and feels they'll win an SEC title again soon.
"Georgia is a sleeping giant in the SEC," McGraw explained. "They always seem to come up short in the big game such as the SEC Championship several years ago (Alabama beat Georgia 32-28 in the 2012 SEC Championship game). However, I believe Coach Pruitt will help Georgia turn it around."
One of the reasons McGraw is now an Alabama commitment is the relationship the Crimson Tide coaches developed with him in the past three years. After the 2013 season, Saban tweaked his defensive staff and Kevin Steele moved from an administrative position to linebacker coach. Steele had also helped recruit McGraw and the dividends eventually paid off.
"Coach (Kevin) Steele is one of the best recruiters, if not the best in the nation," McGraw commented. "When Coach Saban was making changes on his staff last January, Coach Steele kept my parents updated on what was going on. He did a good job of winning my mom over."
Recruiting is an 'arms race' and many schools use its facilities as a 'wow factor' in getting a commitment. Saban has invested a lot of money into upgrading Alabama's athletic facilities. Alabama has one of the nicest indoor practice facilities in the nation and Georgia is currently building one.  Alabama's facilities were a contributing factor in McGraw's decision to flip to the Crimson Tide.
"Every program in the country wants to win the 'wow' factor with recruits," McGraw replied. "Certainly as a recruit, Alabama's facilities catch your eye immediately."
The 1992 Alabama national championship team is known for its legendary defense. One of the cornerstones of that team was former Alabama linebacker (1990-93) Lemanski Hall. Hall is now an assistant coach at Ensworth high school and McGraw has established a close relationship with Hall.
"I love Coach Hall, I have a good relationship with him," McGraw said. "He never put any pressure on me to commit to Alabama. He was excited to hear about my commitment. He has always wanted the best for me and my family. Of course he won a national championship for Alabama (in 1992) and he has always been a role model for me."  
McGraw has the ball skills to play several positions in the secondary. The Alabama coaches have expressed an interest in putting McGraw in the rover position.
"Coach Saban told me he will allow me to choose what position I want to play," McGraw stated. "They like me to play the rover position because I can cover a lot of space against the uptempo teams. But Coach Saban and Smart have said let's see what happens when I get to Alabama and then we will choose what is the best position for me and my skill set. But I can play corner or safety if I need to."  
Another contributing factor in McGraw's decision was his official visit to Tuscaloosa last season to watch the Tide's 38-17 win over LSU.
"My official visit last fall was the LSU game in Tuscaloosa and it was a tremendous experience," McGraw said. "The LSU game really opened my eyes. I can see why any recruit would love to come to Bama after watching a game in that atmosphere. The fans were wild and came up to me after the game and wished me well."
McGraw's has the skill set to be successful in multiple positions. He is a thoughtful, articulate young man but his biggest asset is his competitive desire to excel.  
"My biggest strength is I like to compete and be the best I can be," McGraw said. "I have a competitive edge because I want to win every down and every series of each game."
One of the many changes in the recruiting process the past five years are verbally committed players recruiting uncommitted players. McGraw is good friends with Alabama target Drew Richmond. Richmond, a four-star 6-5, 320 pound elite offensive tackle, plays at the Memphis University high school and is considered by many recruiting services to be the No. 1 player in the state of Tennessee. McGraw was asked if he is helping the Alabama coaching staff recruit Richmond to sign with Alabama.
"Drew is my guy, I am close to him," McGraw admitted. "Our teams have played each other the past three years. We really don't talk too much recruiting, but I tell him what's going on at Bama. We'll see what he decides to do."  
Despite earlier reports, McGraw will not be an early enrollee in December.
"Our high school has stringent academic requirements and I will not be able to enroll early at Alabama. I will use this season to improve my technique. I want to lower my pad level and try to elevate my game. There is a huge difference between high school and college and I want to be on my game."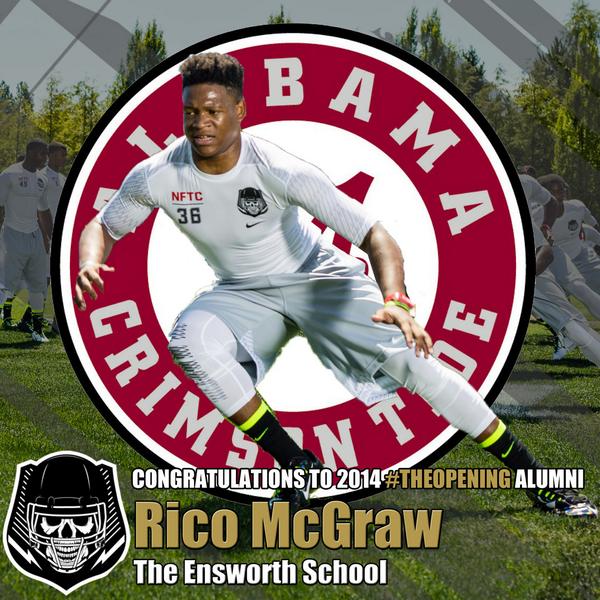 McGraw is the 11th member of the UA 2015 class to have attended The Opening
Brett Beaird and Harold Bugg co-host the Boomo Bugg show weekdays 12:00 am-2:00 pm CT on WYTK 93.9 FM the Score. Beaird also writes for the Huntsville Times/Al.com and 256 Magazine.